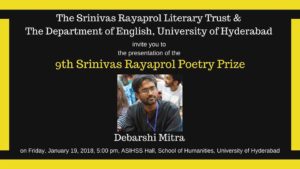 Debarshi Mitra will be presented the 9th Srinivas Rayaprol Poetry Prize (2017) at the ASIHSS Hall Department of English University of Hyderabad by Prof. Sachidananda Mohanty, Vice-Chancellor, Central University of Orissa, on 19th January 2018 at 5 pm where Prof. Usha Raman, Department of Communication, University of Hyderabad and Debarshi will read their poems.
About the Rayaprol 2017 winner:
Debarshi Mitra is a 22 -year old poet from New Delhi. His debut book of poems Eternal Migrant was published in May 2016 by Writers Workshop. His works have previously appeared in anthologies like Kaajiyana and in literary magazines The Scarlet Leaf Review, Thumbprint, Punch Magazine, The Poet Community and Leaves of Ink, among others.
His second collection of poems, Spare Change, is forthcoming in 2018. He was the recipient of the runner up prize for The Wingword Poetry Contest. He is currently enrolled in the Integrated Ph.D program in Physics at Indian Institute of Science Education and Research, Pune.