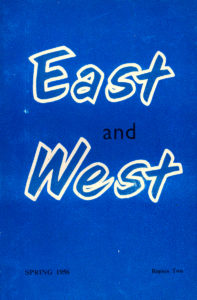 Excerpts from: Bruce King, "Modern Indian and American Poetry: Some Contacts and Relations," Indian Journal of American Studies, Vol.15, No.1, Winter 1985, pp.5-17.
[Prof. Bruce King was then the Albert S. Johnston Professor of Literature at the University of North Alabama. A book-length development of this journal article can be found in Prof. King's Modern Indian English Poetry (originally published 1987), Revised Edition, Oxford University Press, 2005.]
"Another of the first modern Indian poets writing in English is Srinivas Rayaprol, who studied engineering at Stanford University (1948-51). In California he met Kenneth Rexroth, Henry Miller and Muriel Rukeyser, and through Yvor Winters's poetry course became friends with William Carlos Williams, who introduced him to E.E. Cummings. Returning to India, Rayaprol started East and West (1956-60), a literary journal which included translations from the Indian languages that Rayaprol wanted to introduce to the West. Americans who published in it include James Purdy and William Carolos Williams. When Rayaprol's Bones and Distances was published by the Writers Workshop (1968, reprinted 1975), it carried an "Afterword" saying that most of the poems were written during his stay in the United States. After a British Indian education, he thought of America as "a strange barbaric country." But in America he "indulged in literature and the arts…. And I wrote and practised poetry!" The book of poems is dedicated to "the Americans" including William Carlos Williams, Henry Miller and James Laughlin. Besides poems dedicated to Americans and poems with American subject matter ("The Widow in Washington Square") several poems seem to me American-influenced. For example, "Married Love" in Rayaprol's Married Love and Other Poems (1972) has the colloquial, highly personal, "let it all hang out" manner of American verse.