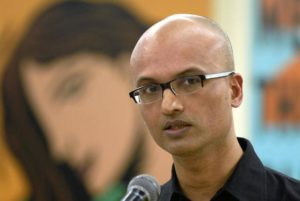 The Srinivas Rayaprol Poetry Prize began with an agreement signed between the Department of English, University of Hyderabad and The Srinivas Rayaprol Literary Trust represented by Dr. Manorama Kanuri and Dr. Aparna Rayaprol on 3rd October 2008. This was followed by an evening of poetry by renowned Poet Jeet Thayil where Sridala Swami, also a poet read out selections from Srinivas Rayaprol's poetry, it was here that the public announcement of the 1st Srinivas Rayaprol Poetry Prize was made on 25th October 2008, on what was his 83rd Birth Anniversary.
Sumanaspati Reddy of All India Radio interviews Jeet Thayil for The Hindu where he talks about Srinivas Rayaprol which was published on 8th November 2008:
Rediscovering a literary giant
A poetry reading session was graced by Jeet Thayil's presence in the city
The reason why Srinivas Rayaprol did not make it big was he lived here in Secunderabad. If he were in Bombay or Delhi, I am sure he would have been among our canonical poets!"
For a surprise, the hall was jampacked and a lot of them were youngsters. And then for a change and despite the academic ambiance, it turned out to be a jazzy, emotional evening.
Srinivas Rayaprol would have been 83 years old (on October 25). But this is resurgence time for him.
The extended Rayaprol family was present there in good strength. So were a few friends and admirers of Srinivas Rayaprol. His daughters (Manorama and Aparna) and Sachidananada Mohanty had worked hard to organise this evening of poetry.
Srinivas was the son of Rayaprolu Subba Rao, one of the pioneers of poetry in Telugu. He discovered poetry and calling in the US while doing MS in Civil Engineering at Stanford University. He also made lasting friendships with the likes of William Carlos Williams, James Laughlin and Yvor Winters.
On the dais, an agreement was signed between Srinivas Rayaprol trust and the Department of English of UoH instituting an award of Rs. 10,000 every year for an Indian young poet writing in English.
Sridala Swami, who has been receiving good recognition as a new poet of great merit, and a Hyderabadi now, read a selection of Rayaprol's poems with fine empathy.
And Jeet took the mike. Four reasons why he found Rayaprol important and interesting: his sense of the modern, unusual line lengths and line breaks, hardly any punctuation marks and a lyric engine (someone talking to you in the first person) that drives the poem. That is Jeet's bias for poetic craft and form for you!
Like Rayaprol, Jeet too has issues with his father.
I greet you my ancestors, O scholars and linguists.
My father who recites Baudelaire in Malayalam.
Jeet looks so young his age doesn't matter. And the performance poet in him came out strongly when he began reciting extracts from the series Shapeshifter. "How to be a Horse?" he asked and went on with gusto:
know the nostril
all power gathers there
inflate yours until the blood sings
you will need all your training
to be horse, not ass
it is a thin crossing
Rayaprol's resurgence is due to a couple of significant anthologies published recently. Eunice De Souza's Both Sides of the Sky (National Book Trust) and Jeet's two compilations of post-independence Indian English poetry: The Bloodaxe Book of Contemporary Indian Poets, which has 72 poets and a truncated version available in India, 60 Indian Poets (Penguin).
People of an earlier generation still remember with great nostalgia East and West, the literary magazine Rayaprol brought out from Secunderabad from 1956 to 1961 spending his hard earned money (he was a civil engineer with the government). Some of the best literary figures in the US and India wrote for it as also a lot of brilliant young writers. The volumes of East and West are collector's items today.
This was Jeet's first ever visit to Hyderabad. After the event, he kept saying that this was among the most satisfying reading sessions he ever had and an experience he would always cherish!
In 1986, Srinivas Rayaprol wrote a poem applauding the international success of The Golden Gate, the verse novel by Vikram Seth, a "fellow Stanfordian":
How I dread to think of Vikram's fate
If he'd stayed behind in his native State
And tried to produce a similar tome
Of similar happenings here at home!
That situation is passé now! As Jeet put it: "Suddenly you realize Indian English poetry can stand respectfully against Latin American and Eurpoean poetry."